From digitalhrtech.com
In a time where companies experience a rapidly growing need to re-and upskill their people, the skills gap analysis becomes an increasingly relevant tool. But where do you start? In this article, we will explain what a skills gap analysis is, why it can be a useful tool, and we will share a three-step approach to conducting a skills gap analysis. 
What is a skills gap analysis? A definition
A skills gap analysis is a tool used to assess the difference (or gap) between the actual state and a future, goal state. Organizations use it to identify the skills that an individual employee needs but doesn't necessarily have yet to carry out their job or to perform certain tasks effectively (Antonucci, Ovidio, 2012). 
For HR, the skills gap analysis is a way to find out which skills and knowledge are lacking among the employees in the organization. Once they have this information, HR can address the skills gap in the organization. This can be done through upskilling, reskilling, L&D investment decisions, succession planning, and so on. We will discuss the various options later in this article. 
Why is a skills gap analysis useful? 
In its 2018 The Future of Jobs Report, the World Economic Forum states that by 2022, no less than 54% of all workers will need to update or replace their competencies. This is the result of rapid technological developments and an increasing digitalization that affect both our personal and professional lives.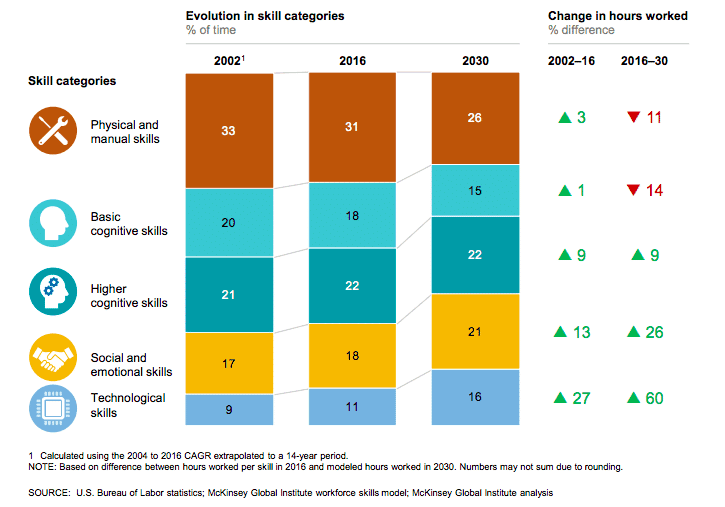 According to a 2018 McKinsey report, AI and automation will accelerate skill shifts. 
For organizations across all industries, this means that certain jobs will disappear due to automation, while others will change in terms of their core tasks and responsibilities. This is where job redesign becomes relevant; the rearranging of these tasks and responsibilities to align them with the changing reality of work. 
Before you get to the redesigning of jobs, however, it's important to know what skills and knowledge are currently missing in your workforce and which of those skills are essential for your organization's performance. 
This brings me to the reasons why conducting a skills gap analysis is useful:
Use 1: It gives you insights into your entire workforce 
You'll be able to identify which employees have the most knowledge of particular aspects of the business, as well as employees with (important) skill gaps. 
As such, you'll be able to better target (training) resources on those skills that require the most attention. This, in turn, will lead to an optimal use of resources in terms of improving the overall performance of the team. 
Use 2: It boosts individual learning and development
Individual employees will be able to find out what improvements they'll have to make to acquire or improve the skills and competencies needed to perform as good as possible in their (future) role. Eventually, this will also have a positive impact on your employees' productivity.  
Use 3: It will help you with your strategic workforce planning
Strategic workforce planning is, among other things, about making sure you've got the right number of people with the right skills in the right place. It's kind of difficult to start planning for the future though if you don't know exactly where you stand right now from a skills perspective… 
Use 4: It can improve your recruitment efforts 
This goes hand in hand with the previous paragraph. It's a lot easier to recruit good people if you can identify candidates whose skills better match those needed to function effectively in a particular role. 
Use 5: It creates a competitive advantage
If you combine all of the above, you'll be able to create a competitive advantage and stay ahead of your competition. You'll know the strengths and weaknesses of your workforce, you'll be able to plan ahead in terms of learning and development and recruitment and hence optimize your organization's performance.   
How to do a skills gap analysis
When it comes to the actual conducting of a skills gap analysis, we propose two skill gap analysis methods, a qualitative method, and a quantitative method. 
The first approach is qualitative and loosely based on the organizational development process. The second one is a method proposed by Antonucci and Ovidio and follows a quantitative approach. We'll go over both skill gap analysis methods, starting with the qualitative method.
1. Scope and diagnostics  
This first stage is about scoping the challenge. In the case of a skills gap analysis, this means identifying the needed skills. 
In order to identify the skills that the organization needs now – and in the future – you need to ask and answer certain questions first. For instance:
What is the organization's mission?
What are the organization's business goals?
What critical skills are needed to be able to perform the mission and meet the business goals? 
The criterion for determining whether or not a skill is critical or noncritical is as follows. If an employee lacks a certain skill, but still completes a task satisfactorily, the skill is noncritical. If, on the other hand, an employee completes a specific task but with an unsatisfactory outcome, the missing skill is critical. 
With regards to future skills that are needed in your organization and industry, you need to know, among other things: 
What jobs within your organization/industry are likely to be (partially) automated?
What skills are currently on the rise in your industry?
What kind of (non-existing) jobs will your company need more of?
2. Data collection and analysis
The second step is data collection and analysis. The goal of this phase is three-fold: to analyze what tasks are being done now, to rate how important these tasks are and to inquire about the skills required to do the work properly. In the case of a skills gap analysis, data collection and analysis activities can include:
– Developing job profiles and identifying critical skills needed for each job role
Review current position descriptions for future needs
Consider the impact of upcoming (regulatory) changes as well as future of work trends on the work 
Take the time to develop a list of competencies that most clearly and accurately describe what is needed to do the work 
– Conducting an inventory of your employees' current skills
Position descriptions
Job class specifications
Performance evaluations and employee assessments 
Interviews/focus group meetings with supervisors, managers, and employees  
– Identifying your employees' competencies and skill levels 
Put information gathered from competency assessments into a single, searchable database
Database of all employees and their existing competencies 
Crosswalk with identified necessary critical skills for now and the future 
HR technology can help you with several parts of this. Especially when your organization qualifies as medium or large-sized, it quickly becomes impossible to manually keep track of each employee and their competencies and skill levels. 
A talent management system, for instance, can be that single, searchable database that gathers all the information from your employees' performance evaluations and competency assessments.
3. Designing interventions 
This stage is about creating an intervention that fits the need of the organization. In our case, that means that once you've found out where the skill gaps are in your organization, you can create a strategy to best fill these gaps. 
Potential skills gaps you may encounter can, for example, be a shortage of digital skills – as found in a report in the Netherlands that showed 50% of workers need to be unskilled in digital skills. 
Another example is a lack of employees who possess soft digital skills (such as customer-centricity and passion for learning); according to a report by Capgemini and LinkedIn, 59% of employers experience this.
And then there are, of course, examples of industry and job-specific skills that companies can be lacking. In their 2018 skills gap study, for instance, Deloitte and The Manufacturing Institute revealed that the skills gap in the US manufacturing industry could leave around 2.4 million positions unfilled between 2018 and 2028.
The same study showed that positions relating to skilled production, digital talent, and operational managers, in particular, may be hard to fill – up to three times as hard.  
A 2020 McKinsey survey shows what business areas according to executives and managers will have the biggest potential skill gaps to address.
Skills gap analysis interventions 
Depending on the skills you're missing and your current workforce's capabilities, there are several 'interventions' you can put in place:
Training and development of existing employees 
Job redesign
Recruitment of people with critical skills 
A combination of one or more of the above
Let's go through each of these options one by one. 
Training and development of existing employees 
The results of your skills gap analysis may lead to the development of learning and developmentprograms that will reskill your employees in the newly required or missing skills. 
Job redesign
Questions about the company's mission, business goals and the skills needed to achieve those goals – now and in the future – may lead to the conclusion that the tasks and responsibilities of certain jobs need to be rearranged. This is what we call job redesign and this can also result in the reskilling of employees in newly required skills. 
Recruitment of people with critical skills
The results of your skills gap analysis are likely to change the criteria based on which people are hired too. Because even if you're able to reskill or upskill your current employees, at some point you will have to recruit new people (due to employees leaving, retiring, etc). 
Hiring someone with critical skills directly will save you time training them in those skills. It will also help them to become operational and productive faster. If you can't find people fast enough you can tap into the contingent workforce and hire a freelancer or contractor to help you (temporarily) fill a skills gap. 
A recent McKinsey survey sheds some light on what measures organizations have taken to address their skill needs, those measures vary by region. 
A quantitative approach to conducting a skills gap analysis 
Another method of measuring skills gaps is proposed by Antonucci and Ovidio. Their quantitative approach measures the gap of each competency for every examined subject. The algorithm they designed only takes into account the situation in which a so-called negative gap was found. This means that the employee's competencies are lower than the ones needed. 
Depending on whether the gap is small or big, companies can organize self-training activities or they will have to turn to a training program. Another distinction that needs to be made here is that between a skill gap of often-used competences and a gap of competencies that are rarely used.
Just like with the previous method we described, the starting point is the mapping of the skills needed for each working profile. The benchmark for each required competence can be determined either with a top-down (from managers to employees) or a bottom-up (from employees to managers) process. 
Advantages of benchmarking this way are: 
the procedure doesn't change if the top-down or bottom-up approach is used 
you get quantitative estimations of the skill gap, taking into account importance and frequency of use
it enables a flexible, semiautomatic process for planning training courses     
This results in the following skill gap indicator: 
In this formula, the indicator G of the gap in the j-th skill is calculated. The other variables in the formula stand for:
N – indicates the score of necessity assigned to the 
i-th interviewee for the 
j-th skill
P – indicates the score attributed to the level of the skill possessed by the employee
F indicates the frequency of the use of the skill by the same employee 
c – is a constant to cut the effect of low or negative gaps (i.e. zero or one) 
F indicates the frequency of the use that, in the ideal benchmark of the company, represents the threshold above which the skills shortage represents a problem that is to be solved (while taking into account the costs of training). 
K permits to take into account only positive gaps (when a certain, relatively frequently used skill isn't sufficiently possessed)
Now, this raises several questions, starting with, how is the relevant data collected? Generally speaking, this can be done either using paper-based assessments and supporting interviews or using skill management software. Especially when you're conducting a skill gap analysis among a large number of employees, the latter becomes the more obvious option. 
Companies like Skills Base, AG5 and Avilar provide skills management software that enables you to easily identify (future) skills requirements and record the skill and interest levels of your entire workforce.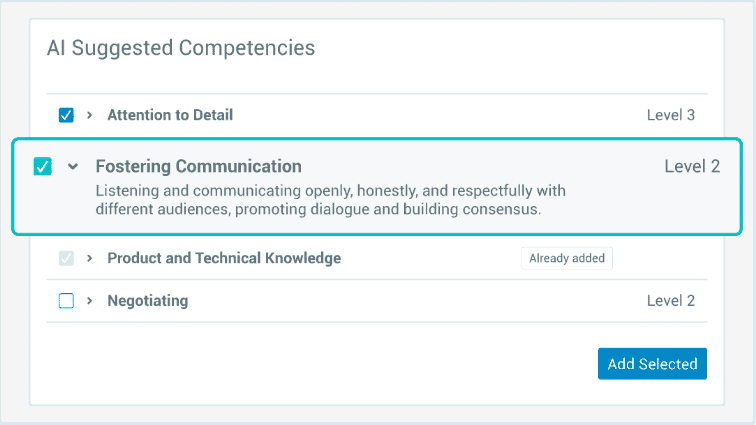 Skills management software can help you collect data for your skills gap analysis.
Another question that comes to mind is what type of assessment you can use to obtain the required information? Information about, for instance, the company's needs in terms of skills, the frequency of use of certain skills and the store of skills specific to each role can be gathered via self-assessment surveys or via 360-degree assessments. The latter being evaluations between colleagues and superiors. 
Here too, HR technology can help, by the way. You can use feedback tools such as those provided by Impraise, 15Five and Reflektive to gather and analyze feedback from and about your employees. 
A third question would be about the rating itself, how does the scoring work? In the example mentioned by Antonucci and Ovidio, the skill assessments are expressed on a scale of 1 o 5 with 1 being the lowest and 5 being the highest level. For each level, every interviewee gives a score to the level of skills actually possessed and the skill level they consider necessary. The same scoring method is used to indicate how intensely a sill is being used in the company. 
Once you've gathered all the relevant data, you'll be able to examine the deviations between the level of skills possessed and necessary by individual employees as well as the frequency with which they are used in the company. This will then allow you to take action resulting in one or more of the skills gap interventions we described above. 
On a final note
In a time where companies are increasingly looking to prepare their people for the future, it's important to know what skills and competencies your workforce currently possesses. A skills gap analysis can be a good tool to use for this; when conducted well, it gives you valuable insights into your entire workforce, can help you with strategic workforce planning and improve your recruitment efforts. An effective skills gap analysis will also enable you to optimize your learning and development programs to reskill your people where needed.