Today more and more companies decide to aim at Thailand to gain new market shares in the production of goods and services with a high technological level.
Kilpatrick and thirty entrepreneurs and professionals met a delegation of the Thailand Board of Investment (BOI), an agency of the Government of Thailand that aims to promote foreign investment in Thailand by providing information, services, and incentives to foreign investor.
The companies that attended the workshop with Kilpatrick were highly diversified: ranging from the production of medical devices that facilitate the healing of wounds to the cultivation of microalgae for pharmaceutical use, from the development of software and technologies for startups to services for industrial research, from the production of small satellite equipment to that of drones or LED technology, from the construction of tannery plants to those used for the treatment and disposal of solid urban waste.

During the workshop, focused on the theme of  "doing business with Thailand", the BOI delegation presented the main areas of development of Thailand 4.0 and useful information to facilitate investment opportunities and commercial exchange: 

Strategic Location
Thailand is strategically located at the heart of ASEAN, beyond the northern and western borders of ASEAN lie the world's 2ndand 6thlargest economies of China and India respectively. Thailand's strategic location combined with its world-class transport infrastructure therefore make it the region's ideal investment destination.
To further increase foreign investments, Thailand touts its advantage of being a regional economic hub. Within 1000 kilometers there are 242 million people in the CLMVT region which includes Cambodia, Laos, Myanmar, Vietnam, Thailand. A little further out at 3000 kilometers the ASEAN market measures 645 million. And if you look at Asia as a whole there are 4.6 billion consumers.
The area is also characterized by a strong infrastructure: aiming to boost the country's competitiveness, the Thai government has formulated a long-term infrastructure plan to accelerate economic growth. Under this plan, the government has prioritized the improvement of existing infrastructure and the construction of new projects in many areas. These projects include airports, seaports, roads, rail systems and ICT infrastructure.
Stable Economy  
Thailand's GDP has increased constantly over the past several years. The Office of the National Economic and Social Development Council has forecasted that GDP growth for 2019 will be in the range of 3.5% – 4.5%. It is expected that the Thai economy will continue to grow favorably, driven primarily by increased consumer spending and expanding private investment, as well as gains from the recovering tourism sector.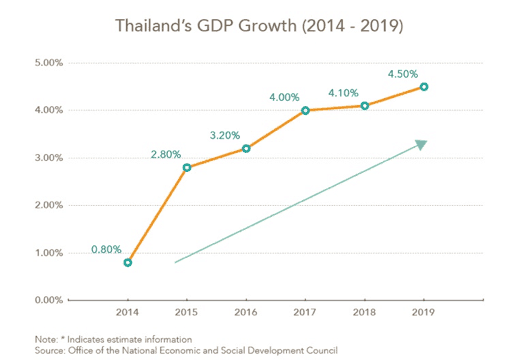 Regional and International Cooperation
As an open economy with liberal economic policies, Thailand has joined a large number of Free Trade Agreements (FTAs), as well as the ASEAN Free Trade Agreements (AFTA). This allows business in Thailand to engage in virtually tariff-free trade with 17 different nations, including such major global economies as Australia, China, Japan, New Zealand, South Korea and India in addition to the other 9 ASEAN members. 
Streamlining Laws & Regulations, Application Procedures to Facilitate Business Operations
To further facilitate the business process for both foreign and local companies, the Thai government has been pursuing numerous initiatives aimed at assisting investors and streamlining procedures by eliminating and/or streamlining unnecessary laws and regulations that are or act as obstacles to business operations. This, along with other endeavors, has significantly improved Thailand's international ranking for ease of doing business, and reduced the amount of time needed to start a new business from 27.5 days to 4.5 days.
Thailand 4.0: a new economic model
Furthermore, Thailand is working to drive digital transformation and use innovation to become a leading economic nation. To achieve the country's vision of becoming a developed economy within 20 years, the Thai government has adopted a new economic model: Thailand 4.0. The model is focused on transforming Thailand into a value-based economy built upon science, technology, innovation and creativity. To this end, five existing high potential industries (affluent medical & wellness tourism, agricultural & biotechnology, food for the future, next-generation automotive and smart electronics) and five additional industries (automation and robotics, aviation and logistics, biofuels and biochemicals, digital economy and medical hub) have been identified as the "New Engines of Growth" driving the country into the future.
SMART Visa Program
Thailand has been making a series of efforts in driving the economy through innovation.
The Thai government, to attract talents and technologies with a view to further developing its targeted industries or the so called S-Curve industries, introduced the SMART Visa Program. It is a program designed to attract highly skilled manpower, investors, executives and startups entrepreneurs wishing to work or invest in the following targeted industries in the Kingdom of Thailand. Visa holders will be granted maximum 4-year permission to stay, exemption from the work permit requirement and entitled to additional privileges.
Asian figures show impressive potential, both in terms of GDP and as inhabitants, it is a market that counts 70 million inhabitants in Thailand, 600 in South East Asia and 3 and a half billion in the most productive part of that continent, that's why Kilpatrick is working in the Asian market already for several years.